Save Baffle Creek

Friends of the Baffle Basin are calling on the State Government to provide legislative protection for Baffle Creek. You can print the petition here (http://fobb.enviro.org.au/baffledampetition.pdf). Please hand the completed petition to a FOBB member or post to FOBB 731 Pacific Dr, Deepwater 4674 before the end of November. Click here for info on why Baffle Creek needs saving.

About the community action day

Held in conjunction with Discovery Coast Markets, it was an afternoon of speakers, singers, information and action! We had well researched press coverage from the day, click to read the Newsmail article or the Gladstone Observer.

The wonderfully melodic sounds of Sunshine Coast band Sacred Space (sacredspace.com.au) greeted the gathering crowd.

>Sunirmalya Symons (FOBB) emceed the event, highlighting the point that current water management paradigms were outdated and unsustainable.

He said that everyone realised that storm water harvesting was the way to go but no meaningful large scale projects were yet underway. To pump water from low rainfall areas where the dams are to high rainfall areas on the coast was 'dumb' he said. But to threaten marine life, our beaches and our food chain with our wasteful habit of washing trillions of stormwater out to sea was 'really, really dumb'.

"We could fill our dams hundreds of times over with the water that washes off our roads and roofs out to sea." He said there was no reason to wreck our area with another 'dumb' dam.

<Frank George from Agnes Water Landcare (click here for contact details) emphasised the need to 'take a leaf' out of the developers books and learn how to influence our local representatives.

He also mentioned how Agnes Water Landcare were involved in an earlier attempt by WWF to get Baffle Creek declared as a Wild River, but at that stage less developed rivers were chosen.

You can join Agnes Water Landcare to be part of a practical solution taking care of our local area.

>Greg Millar from the award winning local sustainable development 'Sunrise at 1770' (sunriseat1770.com.au) detailed some specific water management strategies they employ including the large household tanks, onsite sewerage recycling, and community car wash.

Greg believes that these practices could be expanded out to Agnes Water and 1770, saving our environment and saving the Government money.

<David Brown from the Burnett Mary Regional Group (a community based organisation that liaises with Government to manage our local natural resources) talked about current and upcoming programs. E.g. the Rainforest Recovery project provides funding for landholders to revegetate and manage their land.

David assured us that a dam does not fit into BMRG's Water Quality Improvement Plan (commissioned by the Government).

BMRG recognises the "significant environmental values" of the Baffle catchment and are "very keen to keep the baffle flowing free." See bmrg.org.au for more info on how they can help you.

>Sabine Holt (FOBB) outlined the Wild Rivers legislation that we are asking for. It was introduced by State Labor to manage and protect 'near pristine' rivers and its main result is to prohibit any dams or weirs in the main "high preservation area" of the river. Off stream dams are still allowed and dams may be built in other tributaries as decided by community consultation.

So far only relatively undeveloped rivers have been nominated, and it is time to use this legislation to protect the more developed rivers that are under threat now.

<Councilor Clyde Cameron presented FOBB with a letter of support from Gladstone Regional Council which states council "categorically supports the view that Baffle Creek should not be dammed...It is Council's hope that the State Government will give strong consideration to the environmental issues and community views..."

Clyde mentioned that it was a unanimous and deeply held belief all through council, including staff, that the Baffle should not be dammed.

Personally Clyde mentioned that as a 4th generation farmer 'us cockies' are now at the forefront of conservation management by necessity.

Messages of support - click to read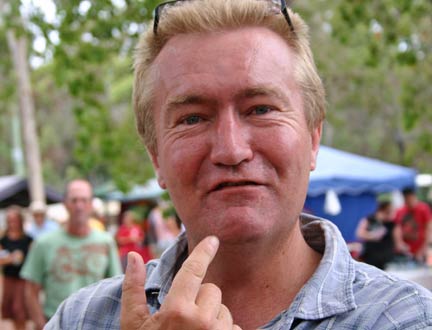 Thank-you, yes you!
As well as all who attended, and those involved in the organising of this event, special thanks go to Sacred Space (sacredspace.com.au) for donating their time to lend such a professional and soulful tone to the event, Blue Ocean signs (blueoceansigns.com.au) for donating the wonderfully effective banner, Steve and Mandy Davis from Safe-t-step (safe-t-step.com.au) for loaning us their trailer/stage, Claire and Christian for setting it up and taking photos and video, and Mandy for conducting interviews. Thank-you!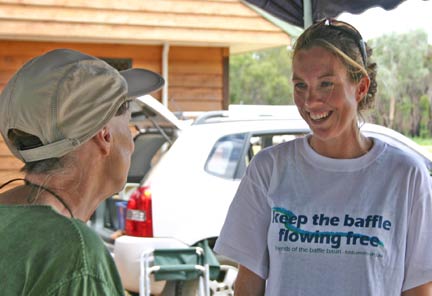 Stay informed
And stay tuned - a video of the day is being prepared. Join our cause on facebook or subscribe to our email list for regular updates and to have your say. The community of Agnes Water is now continuing to meet to plan further events, while FOBB will take another community action day to a town near you! For more info you can also email sabine@enviro.org.au